Because we value your time and don't want to inundate families with daily flyers, each Tuesday, the youngest sibling enrolled in Calibre Academy will receive a Tuesday Communication Folder that will have flyers, information, and updates from the school, PTA, sports programs, etc. Tuesday Communication Folders should be signed to confirm receipt and returned back to school with your child the next school day. We may also contact you via our SchoolReach All-Call telephone messaging service to give you an audio message.
Keeping our families and community updated with the latest school information is very important to us. Register to receive Remind updates straight to your smartphone and stay up to date with the most current information! Just text @Calibre to (623) 552 4732 to register!
Please check with your child's teacher for Remind opportunities within their classroom.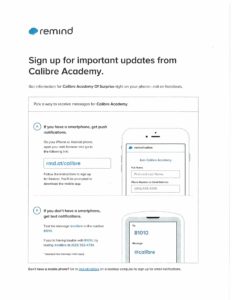 Calibre Text Remind