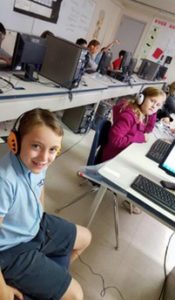 Accept each student as a unique individual and develop the whole person.
Provide a quality education which ensures each student a solid foundation with strong core academics skills.
Ensure a safe learning environment.
Expand international awareness and inter-cultural understanding through literature, art, music, and foreign language.
Increase each student's confidence, encourage character development, instill a desire to be a lifelong learner and to become a contributing member of society.
The Calibre Academy educational environment promotes development and growth of the whole child by integrating principles of character development with a challenging academic curriculum. All students, regardless of their individual backgrounds, talents, abilities, and personal tastes, are encouraged to achieve their personal best at every level. Responsibility for oneself as well as for the community of learners within the school is taught and reinforced daily through learning activities and educational opportunities.
Students are guided through the growing and learning experience by positive adult role-modeling and effective instructional practices. Maintaining a professional, warm, and invigorating environment for our students is a daily expectation of staff members.